FACIALS
Facials are not only paramount to having perfect skin, but they are necessary to your skin's health and longevity. They remove dead skin cells , unclogged pores and provide oxygen to the skin-not only to look brand new but to feel vibrant and rejuvenated! With regular Facial Treatments, you can have your years to come as your best ones yet!
(You can enhance your facial experience by adding a Enzyme Treatment or a Specialty Mask!)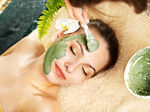 "GLAM SPA" FACIAL
A pampering and hydrating facial tailored to individual skin needs. This facial treatment will rejuvenate all skin types! We start with a Skin Analysis, then combine a Clarisonic Deep Cleansing with exfoliation, gentle extractions and a soothing treatment mask. Then we complete with a blend of moisturizers that hydrates the skin to leaving it glowing. A lot of skin blemishes come from stress. So then we melt away your stress with a relaxing face, neck, shoulders massage to reduce harmful tension and stimulate the circulation and blood flow. Walk out a new person! ($75/hr)

"DEEP PORE" FACIAL
Ideal for problematic or acne-afflicted skin. We begin with the Skin Analysis to find the unique needs of your skin, then carefully proceed to the Deep Cleansing-we combine the Steam Exfoliate with extractions as needed. After we rid your skin of all impurities and clogging-agents that can be blemishing and harmful, we apply an all-natural Clay Mask to soothe and purify the skin, accompanied with a therapeutic face, neck and shoulders massage. ($75/hr)
"FAST N' FABULOUS" FACIAL
If you're on-the-go like myself, the hydration and glow from this facial is a lifesaver! (It is one of my secrets to keeping my own skin happy and healthy! :) This mini-facial includes cleansing, steam, exfoliation, moisturizer and SPF for your unique skin type. Extractions not included. This is very useful life hack for those that want to look their very best for a photo shoot, special occasion or evening! ($45/30mins)
"PARAFFIN" FACIAL
This very special treatment cleans your pores, reduces wrinkles, moisturizes your face and relaxes your facial muscles to prevent any lines or blemishes. It is also a complexion brightener! We allow the blood vessels in your skin expand, releasing more circulation to the face which will brighten the complexion and stimulate the collagen for a younger, healthier glow. This is especially ideal for dry skin! ($50/45mins)

"24kt GOLD" FACIAL
One of the most popular treatments we offer! This contemporary approach is one of the best to leave your skin firm, tighten and refreshed.The residual benefits of gold catalyzes the prevention of collagen depletion, simultaneously beginning to colloquate elastin, ultimately prevent sagging skin! All of this greatly improves blood circulation which aids in reducing the appearance of wrinkles and fine lines. Gold frees the skin of impurities, eliminates the 'tired-look', and increases the proportion of oxygen in the skin for a long lasting look that is unparalleled. Turn your future years into your 'Golden Years!' (Makes a great gift!)($75/hr)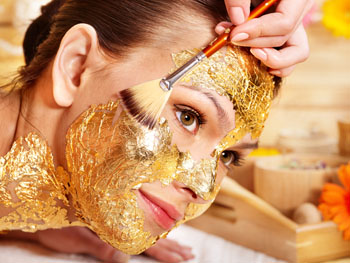 "ANTI-AGING/LEMON" FACIAL
When life gives you lemons, we make the the best products for our skin! Lemon is one of nature's most blessed treatments for our bodies and especially our skin. With that in mind, we start with a unique Lemon Chiffon Cleanser coupled with a Hydrating Shea Butter. Then we apply our Lemon Extract Tone that moisturizes the skin, which is the best cleanser for mature skin. At the end , we complete with a lemon-inspired Age Defying Serum and Moisturizer to hydrate the skin and soothe the skin to continue the treatment even after you walk out our door! ($65/hr)

"THE GENTLEMAN" FACIAL
We hold our men in the highest regard here at Kimberly's Glam Spa & Boutique, with many products, treatments, and specific approaches individually designed for males. This facial is a combination of what we have to offer. We designed this with in mind that men have unique skin concerns, and so we start with our Alpha Deep Cleansing, then we hop right into the Steam Exfoliate. After we proceed with a hot towel to further open pores and unclog many hard to reach and buried blemishing pathogens. After we take care of the problem we begin with the solution: our Targeted Treatment Mask, Moisturizer for Men and finally we end with a stress relieving and relaxing face, neck and shoulder massage. (Makes a great gift!) ($80/hr)
"TEENS GLEAM & GLAM" SERVICE
Teens with troubled problematic skin that is suffering from hormonal changes and acne we have designed a proper skin care for teen skin issues. Learn how to control oily skin, acne breakouts and keeping your complexion clean and clear.Includes cleansing, exfoliation, light facial massage and masque. ($50/30mins)

Written consent from a parent or guardian is required for guests under 18 years of age. The parent or guardian must accompany all guests under the age of 18 for the duration of their visit to The Spa.
BODY TREATMENTS
One of my favorite things about skin is that it is its own world. It adapts and changes, has different terrain and topography that makes it my passion in life. That is why I decided to start my Body Treatments. I've worked on every type of skin in my 20+ years in this industry, and I must say that when it comes to the body we see the most results. Our bodies often go neglected the most, with underexposure, sweat, and abrasive elements it is faced with throughout the day. Whether you are an athlete or a model, an parent or a student, it does not matter. Your body's delicate skin has just as much need as your face, and can look picture-perfect with just a little attention! Try it today for yourself or a loved one, and let the results explain the rest!
"CHOCOLATE COVERED STRAWBERRIES" WRAP
A Valentine's Day dream come true! Real strawberries mingle with antioxidant rich dark chocolate to create a decadent body ritual that redefines luxury. This scrub, masque and massage will satisfy the cravings of every 'chocoholic' and Cupid that loves the finer things in life. Leaves your skin renewed, soft and rejuvenated, and will have you fall in love with yourself all over again! (Makes a great gift!) ($130/1.5hr)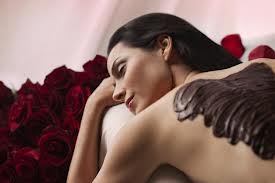 "SOUTHERN SEAS" BODY SCRUB
Crushed coconut husks , organic lemon grass and pure cane sugar mingle with authentic Monoi de Tahiti oil a French Polynesian Fusion of tropical flowers macerated in fresh coconut oil. You will be soon celebrating radiant and lusciously supple skin! ($75/hr)
"AROMA THERAPY SALT GLOW" TREATMENT
Give your body its natural glow with an invigorating aroma therapy full body treatment that gently exfoliates dead cells, then hydrates the skin, all while stimulating circulation and improving skin color. Relax with a hot cup of herbal tea as your body rejuvenates! ($75/hr)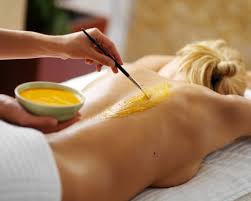 "BACK PURIFICATION" TREATMENT
Trouble with back dryness or 'bacne'? This purification treatment includes deep pore, extractions, massage and mask to help treat and prevent back acne and peeling or dry skin. ($65/45mins)
"FRUIT SMOOTHIE" BODYWRAP
A decadent dose of fruit acids and essential vitamins chemically remove tired cells to reveal the fresh radiants underneath. Enriched with coconut milk, red raspberry oil and real strawberries, this deluxe treatment offers a daily dose of vitamins via a scrub, wrap and massage! ($130/1.5hr)
"THE AUSTRALIAN" FACIAL
For women only. This is the Australian Facial, aka for 'Down Under'. Using Antibacterials, Gentle Body Wash, Witch Hazel, etc., We exfoliate, remove ingrown hairs, apply a soothing calming mask and finish with a lightening cream. This treatment is amazing not only for a younger, healthier glow-but a fresher and more comfortable and long-lasting feel. We seamlessly help to eliminate dead skin cells, diminish spots and razor bumps. A must follow-up treatment for any Brazilian Waxes! ($50/50mins)

SPA PACKAGES
"GLAM SWEET RETREAT" $150 1 ½ HR
Mini Facial
Body Scrub (of your choice)
Body Wrap
Also includes Scalp and foot massage. Ends with herbal tea or water of your choice.
"WRAP IT UP" $110 1 HR
Body Polish
Detoxifying Body Wrap
A complete Body Facial which also includes a scalp massage, foot massage and ending with a fresh fruit water or herbal tea of clients choice.
"PAMPER ME BEAUTIFUL" $120 1HR
Dead Sea Body Mud (detoxifying)
Glam Spa facial
Complimentary Mini Make Over
MAKEUP SERVICES $60
For further details contact Kimberly's Glam Spa & Boutique.
| Service/Product | Rate | |
| --- | --- | --- |
| Waxing - Bikini | $40 | / 60 minutes |
| Waxing - Brows (men) | $12 | / 30 minutes |
| Waxing - Brows (women) | $12 | / 30 minutes |
| Waxing - Chest | $35 | / 60 minutes |
| Waxing - Chin | $12 | / 30 minutes |
| Waxing - Full leg | $25 | / 60 minutes |
| Waxing - Nape of neck | $10 | / 60 minutes |
| Waxing - Underarm | $15 | / 30 minutes |
| Waxing - Upper lip | $12 | / 30 minutes |
| Waxing - Women's full face wax (including brows) | $25 | / 30 minutes |